Zara Accused Of Defaming Asian Beauty With Freckles
It wasn't too long ago when Dolce & Gabbana went under the fire for cultural insensitivity and now, another brand has been accused of doing the same thing.
Last Friday (15 Feb), Zara's official website released an advertisement titled "Beauty Is Here", which starred a stunning Chinese model wearing the brand's outfit while introducing Zara's new cosmetic line. However, it suddenly garnered an unprecedented negative reaction on Weibo. The problem? She has freckles!
When Zara shared their ad on Sina Weibo, which is China's equivalent to Twitter, there were comments made on the model's freckles. Netizens argued that choosing a model with freckles made Chinese people look bad because a perfect face should be without any random sun spots.
By Sunday, the hashtag #Zara had already been used by 460 million times!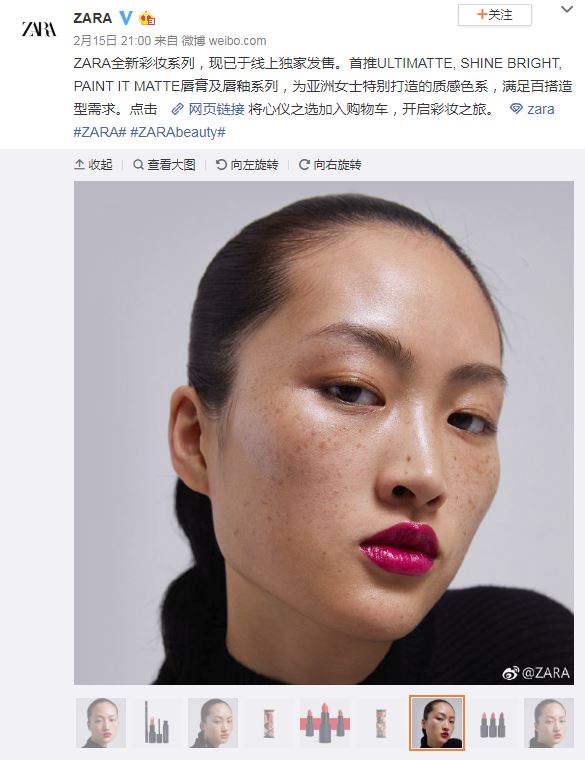 Some of the comments made include, "Cannot believe they pick a freckled face on behalf of Asian females," and another, "Does Zara mean all Asian girls have freckles on their faces?"
Hmm.. is Zara really "defaming Chinese people" or are we just being a little too sensitive here? The Spanish fast-fashion brand responded to the allegations by stating that the photos of the model were taken in an all-natural way without any software manipulation. The reactions might just be differences in aesthetics.
If you didn't know, the model, Li Jingwen, is actually known for her iconic freckled face and has worked professionally for high-end editorials like Vogue, Harpers Bazaar, Elle Italia and more. Although the successful beauty has made a name for herself in the modelling world, she's apparently still not up to the beauty standards of Chinese society.
During an interview with WWD in 2015, she's even quoted saying, "In China, to them, I'm not [considered] beautiful". An absolutely ridiculous statement because she's absolutely gorgeous! On top of that, unique as snowflakes. That's right, freckles are a sign of individuality in which no two freckles are the same, so if you have any, they're 100% yours.
In fact, freckles are a huge #want right now that people are creating their own faux freckles out of henna and tattoo stickers. Perhaps, the internet just need to chill a lil' bit because beauty is after all in the eyes of the beholder. Everyone's perfect just the way they are, period.
.