WWE Hall of Famer Nikki Bella Blamed Herself After Being Sexually Assaulted Twice
WWE Hall of Famer Nikki Bella and one-half of the Bella Twins recently released a memoir with her sister, Brie Bella. In the memoir titled Incomparable, Nikki opens up about her experience being raped as a teenager – twice. In the book, the Totally Bellas star talks about being raped at the age of 15 by someone she "thought was a friend" and then once more when she was 16 after being drugged by someone of college-age. Nikki goes on to share the gruelling details of her sexual assaults, the reason she felt too ashamed to share, her process of letting go and her plans for empowerment.
The 37-year-old retired professional wrestler detailed that in the moment, it is a horrible offence but afterwards, there is a sense of "shame and blame" that comes with it and it almost overpowers the pain of the event itself.
"When something like this happens to you, you understand the blame-the-victim mentality, how easy it is to feel shame rather than anger, how easy it is to feel like you could have stopped it yourself."
Nikki spoke to PEOPLE about why she kept quiet all these years. She opened up about holding onto the blame for years and the effect it had on her life be it in her relationships or in her future. She revealed that the events made her blame herself and the shame of that is what made her keep it to herself. She attributed this blame and shame to why she let people treat her badly.
"And keeping that a secret and blaming myself, I started to lose my confidence. I started to disrespect myself. And then the relationships I got into at a young age, I let other people disrespect me and felt like, that's okay, this is what I deserved."
When the memoir was announced, Nikki took to her personal Instagram to share how it was like therapy for both sisters. While in the process of writing the book, the sisters were able to bring out their pain and successes that they were unable to process before. She also details how the memoir is them taking over their narrative and owning it through their never before shared stories.
Nikki also talks about her relationships, attributing her time with John Cena as having helped her learn to "respect myself". Nikki dated John Cena in 2012 before becoming engaged in 2017. However, the couple called off the engagement a month before their May 2018 wedding. Nikki is now in a relationship with her Season 25 Dancing with the Stars partner and Russian dancer Artem Chigvintsev.
Nikki and her sister Brie are both expecting children, with their pregnancies being barely days apart. She shared that growing up with her sister, despite each twin having their own struggles, she would look to her twin for direction.
And I'd always look at Brie like, 'Oh, she has boundaries, she treats herself with such respect. How do I not have this?' And I knew why. But I held onto it for so long. When I look back at just decisions I made based off of it, I wish I could have heard my words now as a 36-year-old woman then, and be like, 'You're going to be OK,'"
With the book, Nikki and Brie Bella hope to:
"Inspire others and help others become heroes of their own stories too! "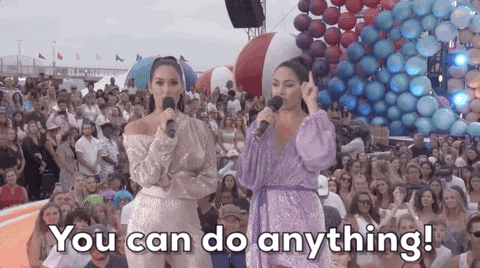 If you are a victim of any sort of abuse or assault, please talk to someone. You (both men & women may seek help) can also reach out to the following hotlines:
1. Women's Aid Organization – +6037957 5636
2. Women's Centre For Change (Penang) – 04228 0342
3. Malaysian Police –  032031 9999
4. All Women's Action Society (AWAM) – 037877 0224
5. Sisters In Islam (Telenisa Helpline) – 037960 8802
*Cover image credits:
Background: Artiom Vallat on Unsplash
Left & Right: Nikki Bella on Instagram