Willow Smith's Art Exhibit About Anxiety Ends With Her Shaved Head & A New Album
Gone are the days she's spent whipping her hair back and forth.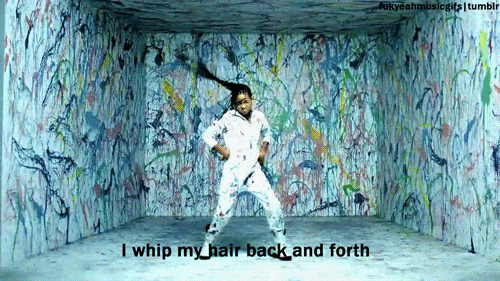 But she's always stayed true to her colours – expressing herself through art. This time around,  the 19-year-old Red Table Talk star teamed up with, Tyler Cole – her musical collaborator, for a 24-hour performance about anxiety at the Geffen Contemporary, Museum of Contemporary Art's in Los Angeles. For the duration of the 24 hours, they were trapped in a glass box as part of their interactive exhibit to demonstrate the eight emotional stages related to anxiety: paranoia, rage, sadness, numbness, euphoria, strong interest, compassion, and acceptance. Sharing her thoughts, Willow said:
"I think everyone has a fear of just not knowing what's going to happen in the future, not knowing if you're on the right path, not knowing if you're making the right choices."
The exhibit titled, The Anxiety (which also happens to be the name of the pairs' band and new album), was described as "A personification of the emotional spectrum within the human mind and through performance art". Without much except paint and canvases, Willow and Tyler did not communicate verbally with the live audience nor with the audience that was watching via live stream during the event, instead choosing to illustrate their feelings with only the abovementioned material.
"The first thing we're going to be writing on our title wall is something along the lines of: 'The acceptance of one's fears is the first step toward understanding.' So then you know this is on something real. This is for a real cause."
Having rented out the space themselves, audience members got to watch them live for up to 15 minutes at a time, according to the Los Angeles Times. Meanwhile, both Willow and Tyler stayed in each stage of emotion for three hours, taking breaks to sleep and eat as well as go to the bathroom. Towards the end, Tyler can be seen shaving Willow's head.
Jada Pinkett Smith posted Willow's progress on her Instagram, writing that it was the start of a new beginning with her "baby shaving her head! Again!"
Their album, released on March 13th, can be found here or on Apple Music and has 10 tracks.