5 Things You Probably Didn't Know About John Cena
Even if you've never watched wrestling before, you probably know who John Cena is.
Following in The Rock's footsteps, the WWE champion has set his sights in Hollywood, playing lead roles for prominent movies like Bumblebee and WWE Original movie The Marine.
Besides having a hot bod, he's a pretty cool guy – check out this list of 5 things you probably didn't know about John Cena. I mean, can we actually SEE him?
1. He stars in the newly-released movie, Playing With Fire
This fireman-meets-children movie premiered just a few days ago. It tells a story of strict, military man Superintendent "Supe" Jake Carson, played by John Cena himself, who rescues two children and one teenager from a burning cabin. The kids stay the night and cause chaos that Supe and his fellow firemen try to control
Playing With Fire starts off slow, puzzling, but ends with a heartwarming bang. It's a fun movie to watch with your younger siblings, children or y'know… if you really like shirtless, heroic John Cena scenes. The movie also features a "fiery" soundtrack, including the likes of our favourite K-pop boyband BTS.
2. His "you can't see me" gesture was from his younger brother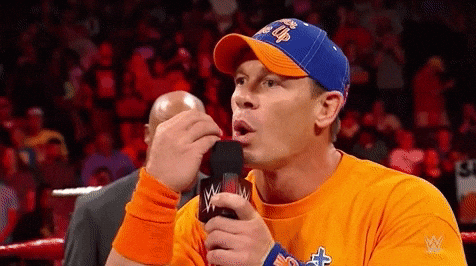 According to WWE, John Cena's developed his iconic gesture from a dance his younger brother, Sean Cena did.
3. His fans/ followers are called "Cenation"
If you never fail, you will never really know what you are capable of.

— John Cena (@JohnCena) December 2, 2019
As his wrestling career started in 1999, John Cena has amassed an army of fans, whom he fondly refers to as the "Cenation." Of course, he tweets to his 11.9 million "Cenation" followers on Twitter pretty often.
4. He's into music
John Cena has a studio album called "You Can't See Me." It was released in May 2005 by WWE Music Group and Columbia Records. He also plays the piano.
5. He speaks Mandarin
The WWE Superstar took up Mandarin lessons when WWE wanted to break into the Chinese market. He just kept on learning after that because he was fascinated with the language.