#TGIF Hacks: Party With Your Friends Without Going Out
The novel coronavirus, also known as COVID-19, continues to spread and more countries are placing their citizens under lockdown or under orders to stay home. People are rallying together to support each other, find ways to entertain themselves and creating challenges that can be done at home. But, for most, staying home alone 24/7 takes the YAY out of Friyay. Thankfully for us, we have the internet to keep us entertained as well as connected.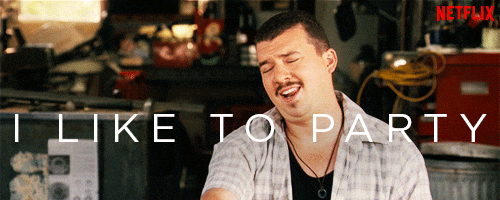 Here are 5 hacks to help you party with your friends like its Friyay without having to leave your house (or couch).
1. Netflix Party –
Netflix Party is a Chrome extension for watching Netflix remotely with friends. So if you're bummed about missing out on movie night or wanting to share a special evening with your special someone, this is a great option! It has synchronised playback and a group chat function. or movie nights with that long-distance special someone. And it's really simple to set up! Install Netflix Party, choose a video to start playing on Netflix, create your party by clicking on the red NP icon located next to the address bar on your browser, click "Start Party" and share the link created to get your friends to join in. And if some of your friends don't have Netflix…
2. Megastream together –
Megastream is also an extension for your Chrome or Firefox (omg, do people use Firefox?), similar to Netflix Party. However, Megastream is still in its beta phase but it boasts being able to support Youtube, Netflix, Hulu, CrunchyRoll, SoundCloud, Twitch, and Reddit.  The cool thing about Megastream is that you can queue up media, giving the phrase "watching old internet videos together" a whole new meaning. To start, set up a session and click the invite icon to get a sharing link. From there, add media with the "add media" button at the centre (or to the side if something is already playing). The only downside? There is a chat, but no support for audio or video.
3. Visit a National Museum – virtually –
Sad about having to cancel all your travel plans with your friends? Well, what if I told you you could relive your field trip days while adhering to the Movement Control Order? Without having to actually leave, you could be travelling across the most historic places around the world with your closest pals. All you'd need is a group call (via Whatsapp, Skype, Facebook messenger, whatever you'd prefer) and this handy list. It has everything you could need for a trip to the Smithsonian, Musee d'Orsay in Paris, the great pyramids in Egypt and many many more.
4. Compete with your friends –
Just because you can't beat each other in a game of badminton or have a Nintendo Switch party at your place, doesn't mean that the games have to end! With how the COVID-19 has forced people to go into lockdown (or in our case, to reduce our movement), gaming companies are finding ways to ensure that people still get to interact and enjoy themselves with their friends. Some have gone as far as to give away their games for free! Games like Mario Kart Tour does not require anything save for wifi and a handphone. They have a multiplayer mode that supports up to 8 friends.
5. Go to a concert together –
Stars like John Legend & Chrissy Teigen, Keith Urban & Nicole Kidman, Chris Martin of Coldplay and even P!nk have been streaming themselves singing during their own quarantines at home. It started with Chris Martin performing on an acoustic guitar for 30 minutes (!!!) with the hashtag #Togetherathome, prompting John Legend to hold his own mini-concert (Legend being The Legend, runs his for a whopping 1 hour). So why not get together with your friends on your own respective couches, plug on some earphones, set up your group chat and attend a John Legend concert together?
P.S. Here's to hoping other stars follow suit because I, personally, am gutted about MCR's tour postponement. Who would you hope to see?
If you have your own hacks to party with your friends without leaving the house, sound off below and share the fun!