Spoil Yourself With These 5 Stunning Gifts On V-Day (Because You Deserve It!)
There are countless ways to celebrate Cupid's day—whether you're single or happily committed to someone—this year, give a little token of a well-deserved appreciation to the most important person in your life: Yourself. Hey, it's the only relationship guaranteed to last a lifetime!  
Check out these beautiful items to gift yourself on Valentine's Day (or any days) simply because you deserve it. To quote Beyonce, 'From now one, I'm gonna be my own best friend'.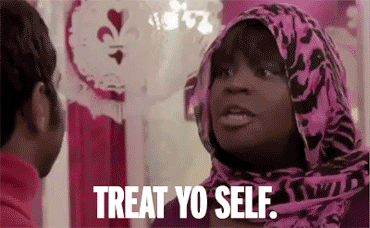 Herbivore Botanical Self Love Body Care Ritual
After a stressful day at work, pamper yourself with a sensorial bath and body ritual from Herbivore Botanical to cultivate self-love. With these two skin-perfecting body polishes and a glow-boosting, moisturizing Jasmine Body Oil, you'll smell heavenly! 
2. Pat McGrath Labs BlitzTrance Lipstick 
Get sparkly this Valentine's Day with the BlitzTrance Lipstick from Pat McGrath. This deluxe formulation glides on and hugs every curve, embracing your lips in a silky smooth veil of alluring colour. Preen and pout in très sophistiquée diverse shades. 
3. Dr.Jart+ Rubber Mask Firming Lover 
It's not just the packaging that makes it interesting, but the name too. This two-step Firming Lover rubber mask delivers actively into your skin while providing cooling benefits for a more defined and contoured complexion. Now you have more reason to check yourself out in the mirror! 
4. Huda Beauty Kayali Musk Perfume 
Created by the Kattan sisters, Huda and Mona, this Kayali Musk Perfume is laced with exquisite musk and an elegant mix of vanilla and creamy sandalwood. This collection was designed to reflect the limitless possibilities of your desires. So tempting. 
5. Mount Lai Gua Sha Facial Lifting Tool 
If you are one of those girls who wakes up every morning with a puffy face, then this Gua Sha Facial Lifting Tool is a must have. Make this massage tool your best friend by using it everyday to help reduce the appearance of fine lines and wrinkles.