Scott Disick & Sofia Richie Are Over: Their 3 Year Relationship In 3 Minutes
Okay so, Scott Disick (aka Kourtney Kardashian's 37-year-old baby daddy x3) and Sofia Richie (aka Lionel Richie's 21-year-old baby girl) defied the odds by staying together for 3 years – hey, this is long for a celebrity couple so kudos to them. And while it seems like their 15 year age gap was nothing to them, it looks like their differences may have just caught up with them. Now, to make it easier for us all, here's a look back at their relationship with alllll the tea in 3 minutes.
2017
It all started in September 2017, when Scott and Sofia make their relationship Instagram official with PDA packed Instastories; they're kissing in a dessert, they're kissing in a restaurant, they're kissi- you get the idea. Anyway, this is surprising to many, considering Scott is 15 years older and literally just seen with different women days before (Bella Thorne is one of them).
Sofia's famous dad, Lionel Richie weighs in with Us Weekly saying,
"Have I been in shock?! I'm the dad, come on. I'm scared to death, are you kidding me?"
The loved up couple don't seem to be bothered about the elder Richie's statement, choosing to make out in a jet ski instead. Is Scott turning over a new leaf and ready to settle down after his string of flings? However, we wonder how unbothered they remained to be after Kylie Jenner's now-ex Tyga got a hold of a screenshot of Scott's profile on the dating app Badoo and posted it on his Instagram story.
Yikes.
2018
We see Scott talking about his relationship with Sofia on Keeping Up With The Kardashians and it gets awkward AF as he deals with momager Kris.
But we also see (well, hear) that Sofia is spending a lot of time with Scott and his three kids Mason, Penelope, and Reign. Sources told People,
It helps that Kourtney now trusts Sofia. The kids are allowed to spend time with her. Sofia likes having them and helps Scott. So far, the kids are giving Kourtney good reports about Sofia. Sofia has shown over and over again that she is willing to stay with Scott even when things are not great — but Scott is doing well lately."
But not for long. In June. Scott is seen partying it up at the release of brother in law Kanye West's new album.
Scott Disick partying – okay, sure.
Scott Disick partying with his arms a woman who is not Sofia?
Hmm.
According to People, Sofia then confronted her older beau before appearing to call it quits.
Or did she? TMX then reported that the two were stronger than ever, despite reports that Scott was telling everyone at the party that he was single (ah, blame it on the a a a a a alcohol). The two even kicked it up a notch, with Sofia moving into Scott's home.
Then they reaaaaallly kick it up by vacationing with Scott's ex. Yeap. The pair were seen in Cabo with Kourtney Kardashian. Together. In one spot.
2019
This year started off weird (*gasp* what could it mean for the pair?) after Sofia decided to respond to an off comment on a picture she posted. An Instagrammer came at Sofia, asking her to:
Leave Scott alone and face your future."
And while we have no idea what Amy could possibly mean, Sofia Richie responded with a very nicely worded, "Go **** yourself".
2019 is also the year Sofia makes her Keeping Up With The Kardashians debut. The model is seen going on a vacay to Finland – as a tag along with Scott, Kourtney and their three kids. It looks as awkward as it sounds, trust me, as Sofia even calls out Scott for being "a lot more sophisticated when Kourtney's around". She tells him,
You turn into a five-year-old when it's just us."
Speaking about age, Lionel Richie pops up again as he talks to Australia's Daily Telegraph about his daughter's love life saying,
She's 19. When you're 19 you know everything. Is it going to be for life? I don't know. But for right now it's just a phase and I'm going to stand real still in the corner, get me a good drink and not make too much noise."
And speaking of standing still, Sofia and Scott turned up at Halloween dressed as Barbie and The Joker Ken.
2020
This is the status of the Disick-Richie pair, atm: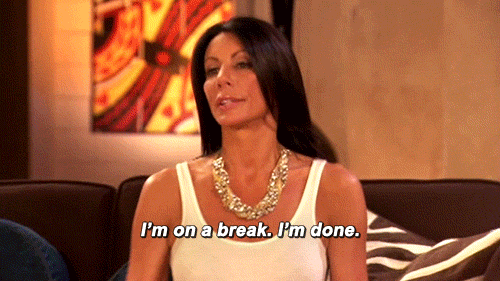 Okay, it's probably not as dramatic as that. The pair are now on a break, following Scott Disick's in and out of rehab stint earlier this year. It is said that he checked into the facility to "deal with past traumas related to the deaths of his mother and father (back in 2013), according to his lawyer Marty Singer who spoke to TMZ. Since pictures of him made headlines, he checked out and was recently seen in Utah with Kourtney and their kids as they celebrate his 37th birthday.
A source told Us Weekly that the couple is on a break to allow Scott to "straighten himself out more", saying that despite the sta being in an "okay place" he wants to "trying to get better and focus on work". As for Sofia, she's focused on working on herself and making sure she is able to be her own person, recently appearing on the cover of Cosmo UK alongside the headline,
Sofia Richie will not be defined by the men in her life,"
You go girl! Here's to hoping the pair get the comfort they need as individuals before maybe, possibly, getting back together.
*Cover image credits:
Background: Cassie Matias on Unsplash
Left: Scott Disick Instagram
Right: Sofia Richie Instagram