Lili Reinhart Calls Twitter A "Vile" Place In Rant About Cyber Bullying
How does the Twitterverse work?
Does anyone know?
Because it seems to be creating a lot of mysterious trends that people don't seem to fully understand. Case in point: the folks that decided to cancel Cole Sprouse over the weekend with #ColeSprouseIsCancelled trending on Twitter. While it's difficult to trace the origins of this trend, Lili Reinhart wasted no time calling out those that participate in trends like these. The Riverdale actress proved that people really need to stop messing with her and boyfriend, Cole Sprouse, after a series of angry tweets.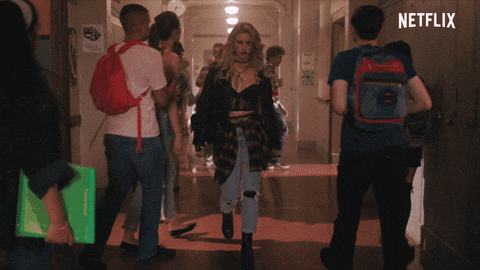 Without specifically addressing any of the recent allegations (that Cole Sprouse cheated on her with model Kaia Gerber), she does take to Twitter to voice her frustrations and defend "why people choose to keep their relationships private. Her tweets have since been deleted but have been obtained by Elle and Reinhart talks about how cyberbullying can be hurtful, even when done through a screen. She starts her expletive-filled rant by calling Twitter "a vile place". She goes on to say that she is okay with being bullied but cannot stand for people "attacking someone for literally no reason, just for the sake of a f****** twitter trend?".
Lili continued:
"It's easy to criticize someone and spew hate because it makes you feel like you have some sort of power over them. Truth is…you don't. Saying you hate someone or don't like them gives you absolutely no power over them."
She ended her thread by reiterating her stance against cyberbullying of the sort, calling it "abusive" before adding,
"Do something helpful with your time and be better. I refuse to keep my mouth shut about things like this. You have no idea how destructive this can be to someone. To anyone."
Fans are here for her rant, supporting her and denouncing the trend. However, people are still confused about why it became a thing in the first place. There are some speculations as to why #ColeSprouseIsOver was trending and these are…
1. Cheating allegations
Cole Sprouse Shuts Down Cheating Allegations & Tells Rumor Mills To "Eat My Delectable Plump A**"
Lili's tweets come not long after Cole Sprouse himself took to his own social media to shut down cheating allegations. Taking to his IG stories, the 27-year-old actor revealed that he had received 'death threats' as people leaked his address. He slammed the 'ravenous horde' who resolved to make up their own gossip because of his choice to remain tight-lipped about his personal life and relationship with Lili. The two have remained under the radar when it comes to their relationship, which started back in 2017.
2. Racism
Cole has been accused of being racist in the past. After responding to a tweet from Tyler the Creator backing 2015, these accusations came to light once again.
Fans speculated that Cole's response meant that him being with an African American was the equivalent to him being with an animal. However, others have pointed out that one of Tyler's aliases is Wolf Haley, and this may be what Cole was referring to in his ill-chosen retort.
3. People really have too much time on their hands.
If you look at the tweets with the hashtag, most of them are either a) fancams of celebrities, b) people asking why he's being cancelled or c) people digging up past allegations (i.e. number 1 & 2 in this article). So… It really seems to be that people are just finding reasons to try to cancel celebs whenever possible.