The Prettiest Korean Hairstyles From Hit K-Drama "Crash Landing On You"
ICYMI, Crash Landing On You is the K-drama that totally booted Guardian: The Lonely & Great God out of the highest-rated drama spot in tvN history.
The drama may have finished airing (you can still watch it on Netflix), but our obsession lives on, especially with the variety of pretty, dreamy hairstyles by the cast and crew.
Props to the crew, like Gu Mi Jeong, Son Ye-Jin's hairstylist, who made these looks possible. Here's your weekly dose of hair inspo, thanks to our love for CLOY.
1. "Goodbye" Waves
South Korean Yoon Se-ri (played by Son Ye-Jin) received this government-approved hairstyle, which helped her blend in with the North Korean residents pretty well. FYI, North Korean women are only allowed a number of government-approved hairstyles, and this rule applies to men too. The soft waves suit Se-ri's heiress image really well, even if it is one of the state-approved cuts. She got these waves to take a passport photo, so we know how we're getting ours taken!
2. Side-part with a hair clip
The iconic Seo Dan (played by Seo Ji-hye) from CLOY brings us back to the nineties with her straight, side-parted hair held back with an eye-catching hairclip. As North Korea's heiress and Jung-hyuk's actual fiance, Seo Dan's simple style can be achieved by brushing your hair into a side part and holding it back hairclips like barrettes.
3. Ponytail with a ribbon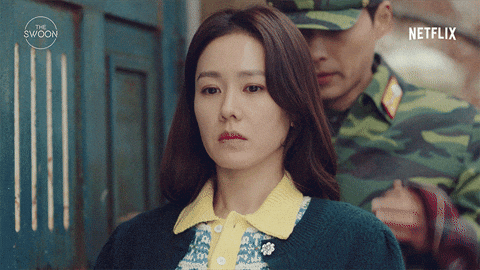 This easy and cute hairstyle is perfect for a casual day out. Plus, it adds an oomph to the usual ponytail. The best part is you can get your partner to help you with this hairstyle and fulfil your CLOY fantasies, like how Jung-hyuk (played by Hyun Bin) tied Se-ri's hair. See how the North Korean captain ties a cute ponytail for the girl he's falling in love with.
4. The fierce bob
If you want to appear fierce enough to intimidate people, yet look like a total babe at the same time, Ko Sang-A (played by Yoon Ji-min) has her hair in a bob hairstyle would certainly suit the vibe you're looking for. Even though she's technically the villain in CLOY, as Se-ri's cunning sister-in-law, we can't help but admire her signature bob hairstyle.
5. Wispy bangs
Wispy bangs are so cute, especially on Do Hye-Ji (played by Hwang Woo Seul Hye), who wore the same hairstyle throughout the show. As Se-ri's adorable sister-in-law, this hairstyle suits her character, and it would suit any wearer too, if they want to channel a dongsaeng (younger sister) vibe.