Feeling Down? Doug the Pug's Workout Session Is What You (And Your Pet) Need
Doug the Pug is an internet celebrity (and holds the record for "The Most Followed Pug In The World) with almost 13 million followers across his social media platforms. The 6-year-old currently resides in Nashville, Tennessee. Amongst his many achievements is his starring role in Fall Out Boy's music video, "Irresistible", his title of New York Times best-selling author numerous and winner of a People's Choice Award for Animal Star 2019. You know, normal pug stuff.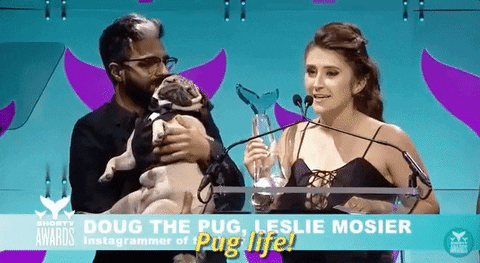 Now, it looks like he can add "fitness instructor" to his resume!
On the 27th of March, Doug the Pug hosted a workout session on Planet Fitness's Facebook page. As part of the gym's  "Home Work-Ins" series, Doug hosted a 20-minute exercise routine. The virtual classes do not require any equipment to participate. Each workout is available on both the Planet Fitness Facebook page and YouTube channel.
He even posted a TikTok video on how to work out with your owner:
At home workouts with ur dog! 🐶 pic.twitter.com/bvLoH02ety

— Doug The Pug (@itsdougthepug) March 28, 2020
And as rare as it is, it seems like Doug is the go-to pug for furbaby – fur parent activities. It's a great reminder that even if you're missing your regular work out partner while practising social distancing, it's possible to rope in your furbaby to ensure that you still stay in tip-top shape. It's also an effective way to ensure that both you and your pet are getting the workouts you need, without having to go out for a walk.
Watch the full video below –
Well, move over Fitness Marshall because it looks like there's a new Fitness Guru in town and his name is Doug the Pug.