Did "American Idol" Host Ryan Seacrest Have A Stroke On Live TV?
So the 'American Idol' finale for its 18th season was last Sunday and they held their first-ever "at home" winner announcement but Twitter was focused on more than just the winner when host Ryan Seacrest appeared to be having a tough time.
Thankfully, on Tuesday, Ryan Seacrest came back and said no, he didn't have a stroke – all he needed was a break.

It all began when, during the finale, the 46-year-old radio and TV host appeared to have one eye half shut while talking (no, it was not a glitch) while his words slurred.
ya this was scary to watch.. looks like he was having a stroke #AmericanIdol #RyanSeacrest https://t.co/X8XCwdNnyv

— Jordan (@jordanvr_) May 18, 2020
I think #ryanseacrest had a mini stroke on national television #americanidol2020

— j e n n i f e r 🦋 (@lovelyymrsj) May 18, 2020
I'm worried about @RyanSeacrest on the last segment! His right eye seemed squinty and his words slightly slurred. Is he having a mini stroke? #worried #ryanseacrest #AmericanIdol

— Teresa Napier (@NurseNapier) May 18, 2020
And although the moment was brief, the Twitterverse was filled with concern for the Emmy-winner as people asked,
…is Ryan Seacreast okay???#AmericanIdol#RyanSeacrest

— •𝕆𝕝𝕚𝕧𝕚𝕒• This year goes too fast for me 🥂 (@_Ineffability) May 18, 2020
The speculation was then fueled by his absence on his show on Monday, "Live With Kelly and Ryan". Co-host Kelly said that it was due to Seacrest "working late on Sunday's 'American Idol' finale". Seacrest's rep also denied all claims and speculations, telling People magazine,
"Ryan did not have any kind of stroke last night."
Seacrest made his comeback on Tuesday morning, breaking his silence as he returned to hosting "Live With Kelly And Ryan", thanking Kelly's husband Mark for taking his place the day before.
"I appreciate that. He's so good at it. And also the very kind well wishes for my exhaustion. Working around-the-clock so I got a day off to relax. And here we are once again at it on Live."
Turns out, Seacrest has been keeping busier than the rest of us! His rep also confirmed that the result of the COVID-19 pandemic has thrown the host off when it comes to his work-home balance.
"Like many people right now, Ryan is adjusting to the new normal and finding work-home balance, with the added stress of having to put on live shows from home. Between 'Live with Kelly and Ryan', 'American Idol', 'On Air with Ryan Seacrest', and the 'Disney Family Singalong' specials, he has been juggling three to four on-air jobs over the last few weeks and he's in need of rest."
Yikes.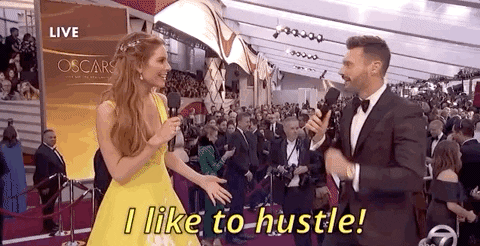 Stay on top of it ya'll! Remember that your mental and emotional health is just as important as keeping yourself safe from COVID-19!
*Cover image credits:
Background:
Ryan: ABC