Bhad Bhabie's Ignorant Defense Against "Blackfishing" Accusations Is That She "Grew Up Like Tarzan"?
Danielle Bregoli, AKA Bhad Bhabie, is no stranger to cultural appropriation accusations. Ever since her rise to fame as the "Cash Me Outside' Girl", Bhabie has been on the receiving end of hate and backlash for her style evolution that many are calling "blackfishing". The term was coined to encompass the endeavours of people (usually Caucasian) that use makeup, clothing and certain hairstyles to appear as if they were of African heritage for "clout". Bhabie, who is originally of Jewish and Italian descent, has been arguing against the idea that she is blackfishing.
17-year-old rapper from Florida posted a video of herself on Instagram on April 6th sporting significantly darker skin. She went on to trend on Twitter, with many calling her out for the change in her skin tone.
Bhabie went on to host an Instagram live session where she addressed the hate she received. In a recorded clip of her IG live session, she attributed her style, mannerisms and interests to her environment growing up. She went on to liken her experience to that of "Tarzan" (yeah, the vine-swinging, loin cloth-wearing, adopted by gorillas Tarzan). 
She explained,
Y'all say that I try to be black. Maybe the reason for that is because I grew up in the hood. Tarzan…he grew up around the bears in the jungle. He didn't know no better! … That's all he knows! When someone grows up in a certain area or a certain place, they're a part of their environment."
Hold up, before we go on to how incredibly ignorant this comparison is – did she say Tarzan grew up with bears?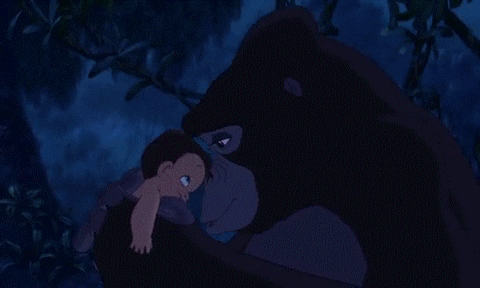 Sorry, back to the important part – this statement is ignorant, with the historically racist comparison between those of African descent and monkeys, and have left people stunned.
There's also the question of, "Wait what was she trynna say?" –
She also drags in rapper Lil Kim for "having nose surgery" (which Lil Kim has said was a result of an abusive ex-boyfriend) and using "lighter foundation" in an attempt to be white. Back in 2017, in an interview with The Fader, Bhabie said she had no time for accusations of cultural appropriation. She said that she would ignore the ridiculous comments because,
You cannot act a color. Do not tell me I'm acting black because I'm not. How I act is me. I get braids all the time; you can't tell me I'm acting black because I braid my hair. That makes no sense whatsoever."
If there is one point that Bhad Bhabie did make that we should all agree on is this:
"Millions of people sick, thousands dying every day and y'all worried about me getting make-up done for a photoshoot? I'm usually the wild one but y'all need to chill and focus on what's important right now."
And while cultural appropriation is a fight that needs to be fought, there is no need to spread so much hate along with it. Instead, educate the ignorant by stating facts and keeping it kind.