Is Kim K "Racist"? Here Are All The Times She Was Problematic
Keeping up with the  Kardashians is TIRING. Heck, it's been 15 seasons of them bickering, fighting and embodying "first world problems". And, they have been no stranger to accusations of racism and cultural appropriation.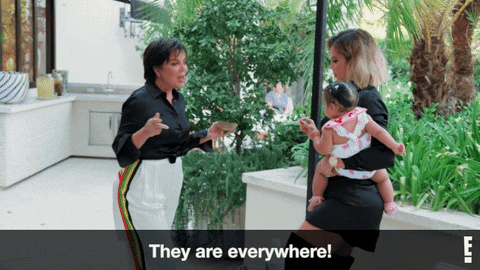 But Kim Kardashian West has found herself in hot water once again over a new product that she's released as a part of SKIMS. Her shapewear line has been criticised for not being inclusive in their shades for its new masks. The famous mother said that the line was available in "5 shades of nude", which then sparked an outcry over the fact that the "nude" for the dark-skinned model was black, rather than a shade that was more accurate to her skin. The shade range starts from the slightest being an ivory colour called "Sand" and it goes on to "Clay", "Sienna", "Cocoa" and lastly, the problematic black mask dubbed "Onyx".
Of course, the sales of the masks are problematic for many reasons. For one, the masks are USD$8 a piece – for.a.cloth.face.mask. Ya'll can make your own for free!
kim kardashian selling masks and literally profiting from a global pandemic is the reason we need to eat the rich

— 𝓃𝒾𝒸 (@PRADAESQUE) May 17, 2020
But, this isn't the first time she's been dragged for not being culturally ignorant…
1. "Bo Derek" 
Kim once attributed her hairstyle to caucasian actress, Bo Derek. Her long, braided cornrows was similar to the ones the actress had in her 1979 movie "10". Posting a video of herself on her Snapchat story Kim K showed off her do (which is normal, that's okay) and then says, "So guys, I did Bo Derek braids and I'm really into it."
However, anyone who's been on the internet knows that the braided cornrows have mainly been worn by women of colour, particularly those of African descent. Not only that, but the particular style she had done was similar to that of the Fulani ethnic group from West Africa. Twitter users reacted harshly, calling her out for failing to correctly attribute the style and even going as far as to call her actions a "racist erasure".
2. "Blackface"
She went on to grace the cover of 7Hollywood in December last year, looking gorgeous – and also shades darker than she originally is.
Dressed in a strapless black gown by Thierry Mugler, the KUWTK star looks tanner than she usually is. On social media, many accused the star of being problematic and "racially insensitive". They went on to call her out for "appropriating black female culture for attention."
Kim Kardashian was just white a few days ago, this blackface aint it pic.twitter.com/HRP8ThCq7P

— Jaguar Paw (@crassiux) December 20, 2019
Some have defended the 40-year-old star, saying that she isn't actually appropriating any culture, simply more tanned as a result of lighting, editing and/or contour.
And in other SKIMS related drama…
3. "Kimono"
SKIMS, as it's known as now, was initially meant to be called "Kimono" – no doubt a "cute" play on her name. When news broke that she was going to name her new shapewear line "Kimono" people called her "tasteless", "awful", and "culturally offensive". Turns out – sorry (not sorry), Kim – people don't think of Kim Kardashian when they see the word "Kimono", they think of the fact that kimonos have a long history and tradition tied with the culture of Japan.
Heck, even the Mayor of Kyoto, Daisaku Kadokawa, found the name inappropriate.
As we now know, Kim did end up changing the name of her shapewear line after admitting that they, "Foolishly and ignorantly, we never thought it would be a problem".
Kim, Khloe, Kourtney and Rob are of mixed heritage with their momager, Kris, being of Dutch, English, Irish, and Scottish ancestry and their late father, a third-generation Armenian-American. However, the Kardashians have been known to appropriate African female culture while remaining ignorant of their actions. Khloe herself was in hot water for Tweeting a meme posted on a meme page that made light of the KKK alongside the caption, "True." Because she did so, her then brother-in-law Scott Disick thought it would be funny to add to it and went on to also share the image with the caption, "And Jew" (to include himself).
The family's history of cultural appropriation almost always revolves around the one culture and constant accusations of "blackfishing". People are done with how the Kardashians are said to "keep their name relevant" by doing so because "they know outrage sells".
But people also seem to forget that Kim (and Khloe) are mothers to mixed, African American children, with Kim married to Kanye West and Khloe sharing a daughter with Tristan Thompson. Couldn't they just be embracing the culture because it is their children's' culture too? Kim has shared how having kids has changed her outlook on life, with a letter she published as far back as 2014,
"To be honest, before I had North, I never really gave racism or discrimination a lot of thought. It is obviously a topic that Kanye is passionate about, but I guess it was easier for me to believe that it was someone else's battle. But recently, I've read and personally experienced some incidents that have sickened me and made me take notice. I realize that racism and discrimination are still alive, and just as hateful and deadly as they ever have been.I feel a responsibility as a mother, a public figure, a human being, to do what I can to make sure that not only my child, but all children, don't have to grow up in a world where they are judged by the color of their skin, or their gender, or their sexual orientation."
So, can we give the mom a chance?