3 Reasons Why John Boyega Is The Man You Should Be Crushing On
When you think about the kind of person you are looking for in a partner, what boxes do you want for them to tick? Do you want them to be charming? Humble? Funny? Enthusiastic? What if your man was all that, wrapped in a tailored suit and wielding a British accent? The New York Times has described John Boyega as being "Handsome and self-assured, he bears a resemblance to a younger Denzel Washington and exhibits the same antic humor as Kevin Hart." After debuting as "Finn" in "Star Wars: The Force Awakens" in 2015, Boyega has made his mark as a young British actor from an African background with his charm, talent and good-natured attitude. But what more is there to this versatile actor?
He doesn't give a f*** what might happen to him when it comes to speaking out for what matters.
After being cast in his role as "Finn" in the Star Wars franchise, Boyega was subject to racist remarks and comments from people who objected to a "black stormtrooper". He gave them the cut direct on Instagram, saying, "To whom it may concern… Get used to it." And while many said he should have stayed quiet, he instead turned the whispers into fuel against keeping quiet about injustice and racial bias. He took his position as a role model seriously, choosing instead to tell haters,
If anyone comes talking nonsense, I'm going to shut them down. You have to fight fire with fire sometimes."
He didn't stop there. The "Pacific Rim: Uprising" star was seen rallying the crowds at Hyde Park amidst the protests following the death of George Floyd. Boyega led the activists in a much-applauded speech that focused on how "now is the time" to demand racial equality.
"We are a physical representation of our support for George Floyd. We are a physical representation of our support for Sandra Bland. We are a physical representation of our support for Trayvon Martin. We are a physical representation of our support for Stephen Lawrence."
He joined crowds who came out despite the bad weather and the threat of not having "a career after speaking out".
Home is where his family is.
To say that John Boyega is a family man is an understatement. He grew up in a big family in South London, with his parents and two older sisters. His father was a preacher who ran his own church and his mother was a carer. He as no qualms about spending time with his family and sharing stories from his life with them. He's been open about how close he is to them, writing a note to his parents not long ago to thank them, saying,
"Thank you to Samson & Abigail Boyega for raising me with the help of God to make the right choices and pursue a dream with no guarantees."
He has even shared how he aspires to be like this father, who he praises as a "very good, genuine man". One of John Boyega's best moments since rising to fame was buying his parents a house, and the "Star Wars" actor is still feeling the joy (as he should!). He took to his Instagram to share the amazing moment he showed his parents the house and their reaction will bring tears to your eyes (or at least, warm your heart).
He captioned the video,
Moments like these make all the hard work worth it."
His roots are where his heart lies.
The 28-year-old British actor has always been proud of his Nigerian descent. At the European premiere of Star Wars: The Rise of Skywalker, Boyega donned a blue "agbada" with gold detailing along with a blue fila (a traditional Yoruba cap) traditionally worn by West African men during formal events. He has posted about his roots, saying,
I'm grounded in who I am and I am a confident black man, a confident, Nigerian, black, chocolate man."
Boyega pours this pride into his work too. His production company, UpperRoom Productions, recently revealed that they will be partnering with Netflix International to develop a slate of non-English feature films, focused on African stories. The company founded by Boyega acts as a body that gives rise to "perspectives and narratives from all over the world" with their production of "authentic content".
And there you have it, folks! Not only is he sweet and down to earth, you know he's the man who is going to fight for your rights and the rights of everyone around you. Talk about a shoulder to lean on.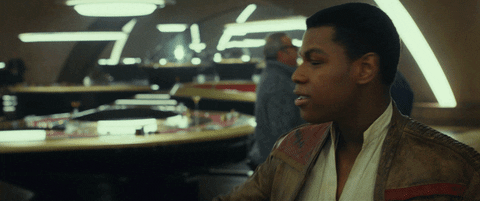 *Cover image credits: John Boyega for The Sunday Times Style, as photographed by Nathaniel Goldberg