10 Times Chrissy Teigen Was Attacked & She. Clapped. Back.
Chrissy Teigen has a wonderfully honest, unapologetic way of being herself but people just won't let the woman live.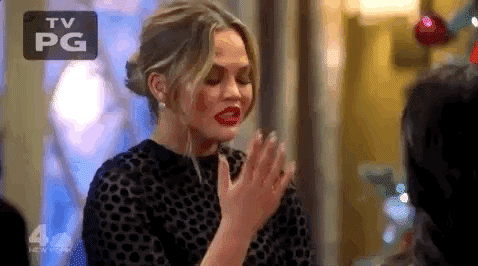 Recently, a fellow foodie unintentionally dragged the mum of two for her success in the food industry, and this led to a pile-up of angry tweets both defending and directed at Chrissy. The end result? Chrissy announcing that she would be taking a break from Twitter and choosing to make her account private. With the very valid reason of…
and if anyone is wondering why someone with 12 million followers would go private, it's because there are still a LOT of people who don't follow me who hate me, and I didn't want to see it. that's all.

— chrissy teigen (@chrissyteigen) May 12, 2020
This is HUGE. Because Chrissy is literally Twitter's Beloved Daughter.
A crash course in how this whole food fight started –
In an interview with the New Consumer, Alison Roman used Chrissy Teigen as an example of someone who built an empire off of one small success. She is quoted as saying,
"What Chrissy Teigen has done is so crazy to me. She had a successful cookbook. And then it was like: Boom, line at Target. Boom, now she has an Instagram page that has over a million followers where it's just, like, people running a content farm for her."
Teigen responded to her on Twitter, sharing how painful it was to hear such words from someone she admired and after all the hard work she put into her work.
After this, we're left feeling the pain she's feeling. And this is not peak Chrissy Teigen! Chrissy is the Queen of Clapbacks, the GOAT of Taking No Prisoners and the kind of woman we should aspire to be – unapologetically ourselves and without room in our lives for haters and fake niceties. She deserves a medal for always standing up for herself and other women who face the same judgement. You'll know why we hold her so high in esteem through 10 of her best clapbacks –
1. When she found herself funny…
Lol pic.twitter.com/0ehDoMRH5W

— chrissy teigen (@chrissyteigen) November 20, 2016
2. When she not so subtly shaded POTUS…
what time should we call your Uber?

— chrissy teigen (@chrissyteigen) February 4, 2017
3. When she then reminded Trump that they're not so different…
Well, not many people can say the president of the United States called them a trashy gutter mouth through Twitter retweets pic.twitter.com/1JjauuoiJ7

— chrissy teigen (@chrissyteigen) November 9, 2016
4. When someone tried to shame her…
5. When she was just being a supportive wife…
Yes if my partner of 10 years is nominated, I will show up with him, you witch. https://t.co/lj1FTkWkPr

— chrissy teigen (@chrissyteigen) June 12, 2017
6. When she wasn't here for people questioning her choice to conceive via IVF…
Hi Linda, thanks for asking, you complete witch. I tried for about 9 years. Anything else, let me know! https://t.co/54e9AvIqQ9

— chrissy teigen (@chrissyteigen) January 30, 2017
7. When she had no time for hypocrites…
if you wanna give me unsolicited baby advice on the damn cereal I eat/what I wear u better unlock your profile so I can see your perfection

— chrissy teigen (@chrissyteigen) October 29, 2015
8. When some tried to come at her again for how she chooses to parent…
9. When someone tried to body shame her…
10. When she hit back with what we all really want to tell the haters & trolls…
no you shut up

— chrissy teigen (@chrissyteigen) November 28, 2016
And there you have it, folks! Now that her account is privatised, if you haven't already followed her, you'll be missing out on quali-TEA clapbacks. But, on a more serious note – let's not use social media to name, shame & blame. We're not perfect – no one is – so who are we to judge others? Spread love & if all you have is hate, take a step back and reevaluate yourself, sis.